Upon analyzing the benefits of working with various foreign currency exchange companies, I also thought that it was important to review an American bank in order to ascertain whether they were in fact easier or more difficult to deal with. The bank that I selected was J.P. Morgan Chase because they are one of the most well established banks in the United States and have the strictest regulations in order to remain competitive in the American banking system. Below is my experience with trying to transfer $100,000 USD to the United Kingdom while working with J.P. Morgan Chase.
Registration
First and foremost, my husband and I have been working with J.P. Morgan Chase for roughly one year now. We had switched to J.P. Morgan Chase with the hopes of finding a better American bank than Bank of America and Wells Fargo who had become quite difficult to deal with. Since we joined Chase as domestic members, we have greatly enjoyed our experience banking within the United States. That being said, as frequent global travelers, we have run into problems with J.P. Morgan Chase because they are slightly too secure for those who are traveling regularly to Latin America, Europe, and Asia. Some examples of this that we have experienced have been calling two weeks before trips and Chase explaining to us that they would not guarantee that we could pay for our hotels in Cartagena, Columbia or La Paz, Bolivia. For those who are more global users, this can be quite concerning, naturally.
Having never considered transferring foreign currency with J.P. Morgan Chase, I thought it would be interesting to see how one would prospectively go about transferring currency and whether the process was in fact more difficult and more expensive than dealing with currency trading companies such as MoneyCorp and the like. Below is a picture of the initial screen that those who bank with J.P. Morgan Chase utilize to access their online system.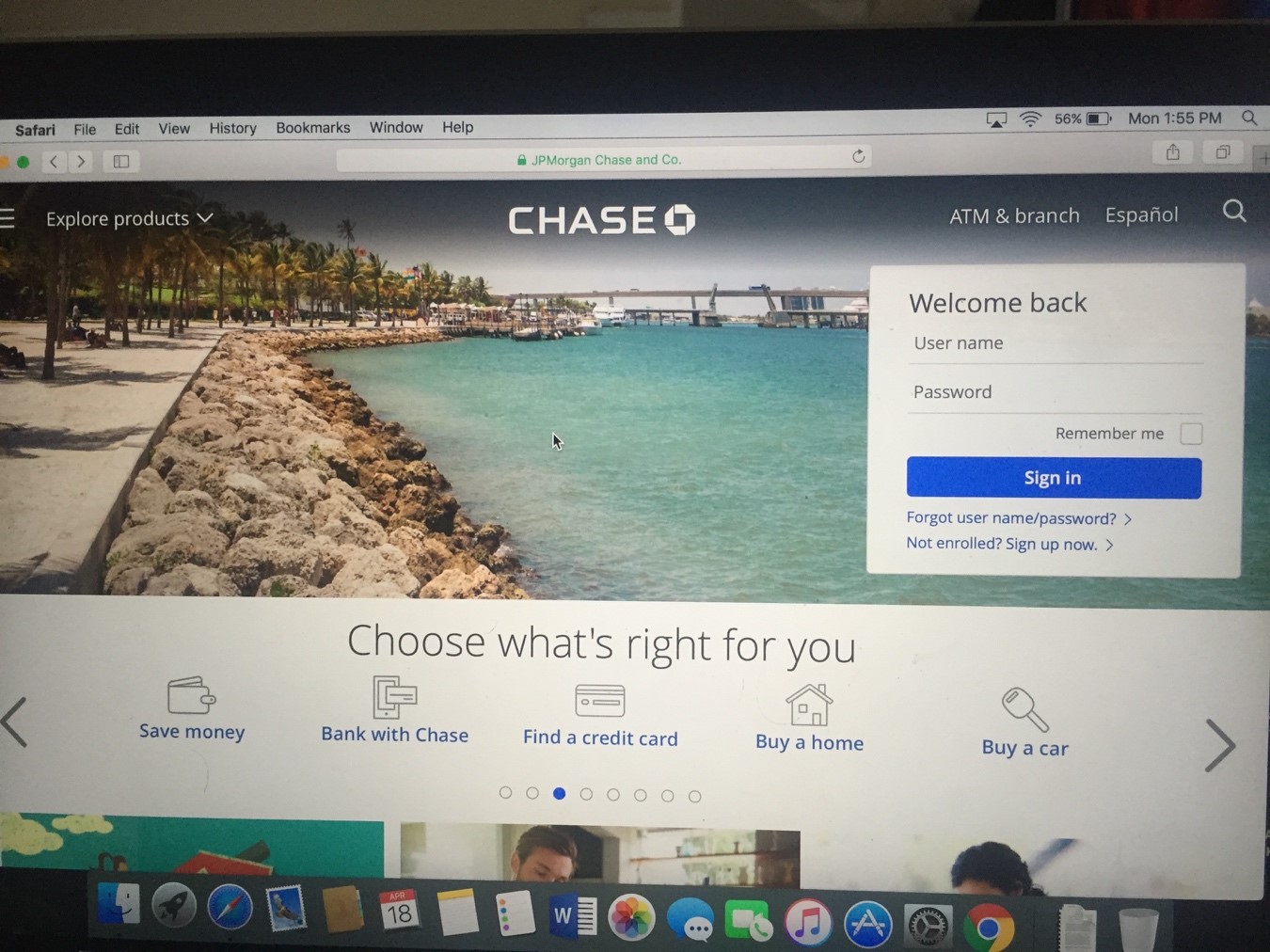 What is interesting about J.P. Morgan Chase's process is that they require members to have an additional identity verification step in order to complete a monetary transfer from J.P. Morgan Chase. Pictured below is the process that a member needs to complete in order to transfer money from J.P. Morgan Chase to an account at another banking institution.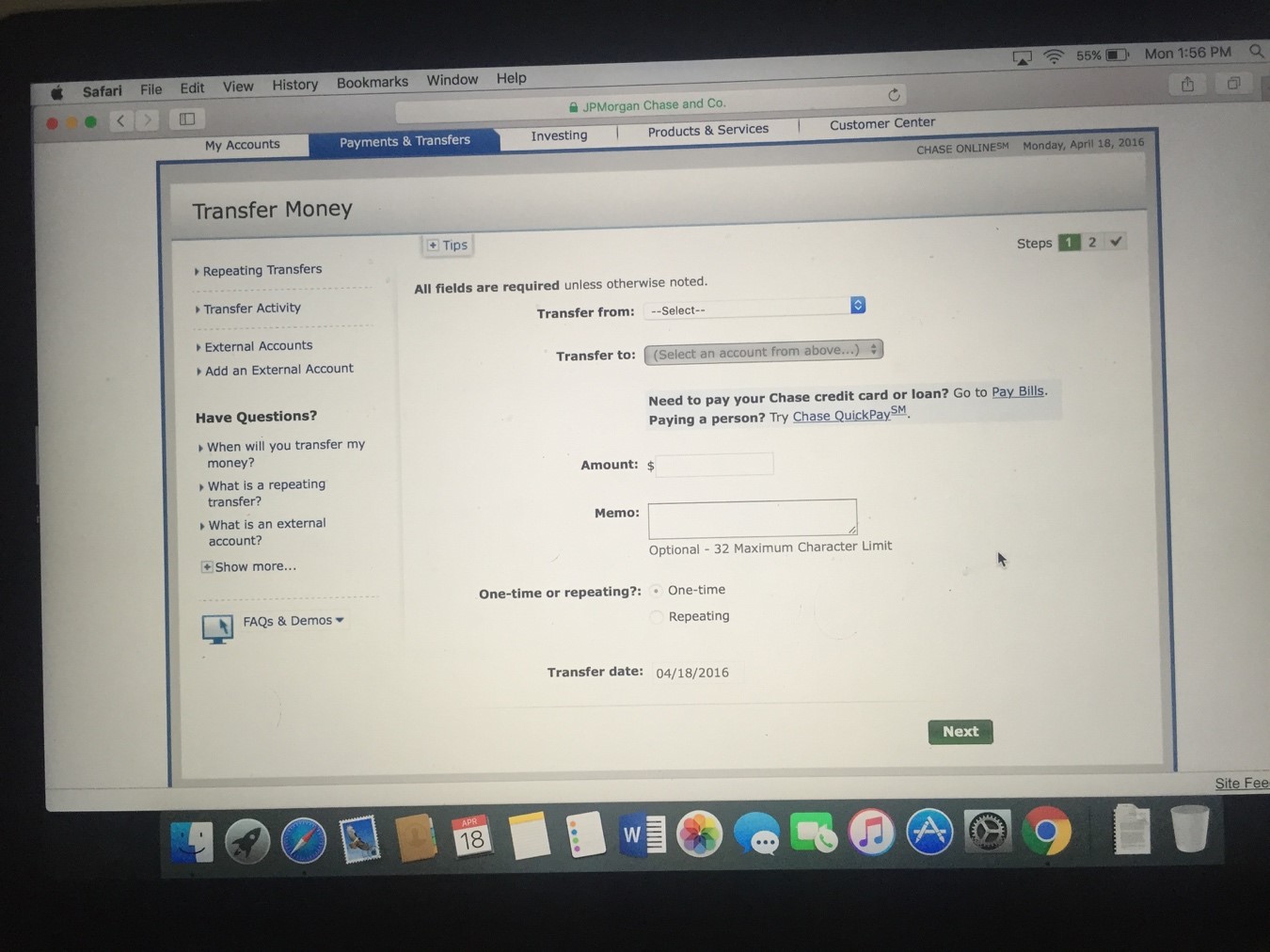 However, this verification process was very different than if one wanted to wire money to a foreign jurisdiction. J.P. Morgan Chase has very strict regulations due to the anti-money laundering act that originated in the United States.
The Transfer
When one wants to initiate a transfer, they have to get verified through the screen pictured below.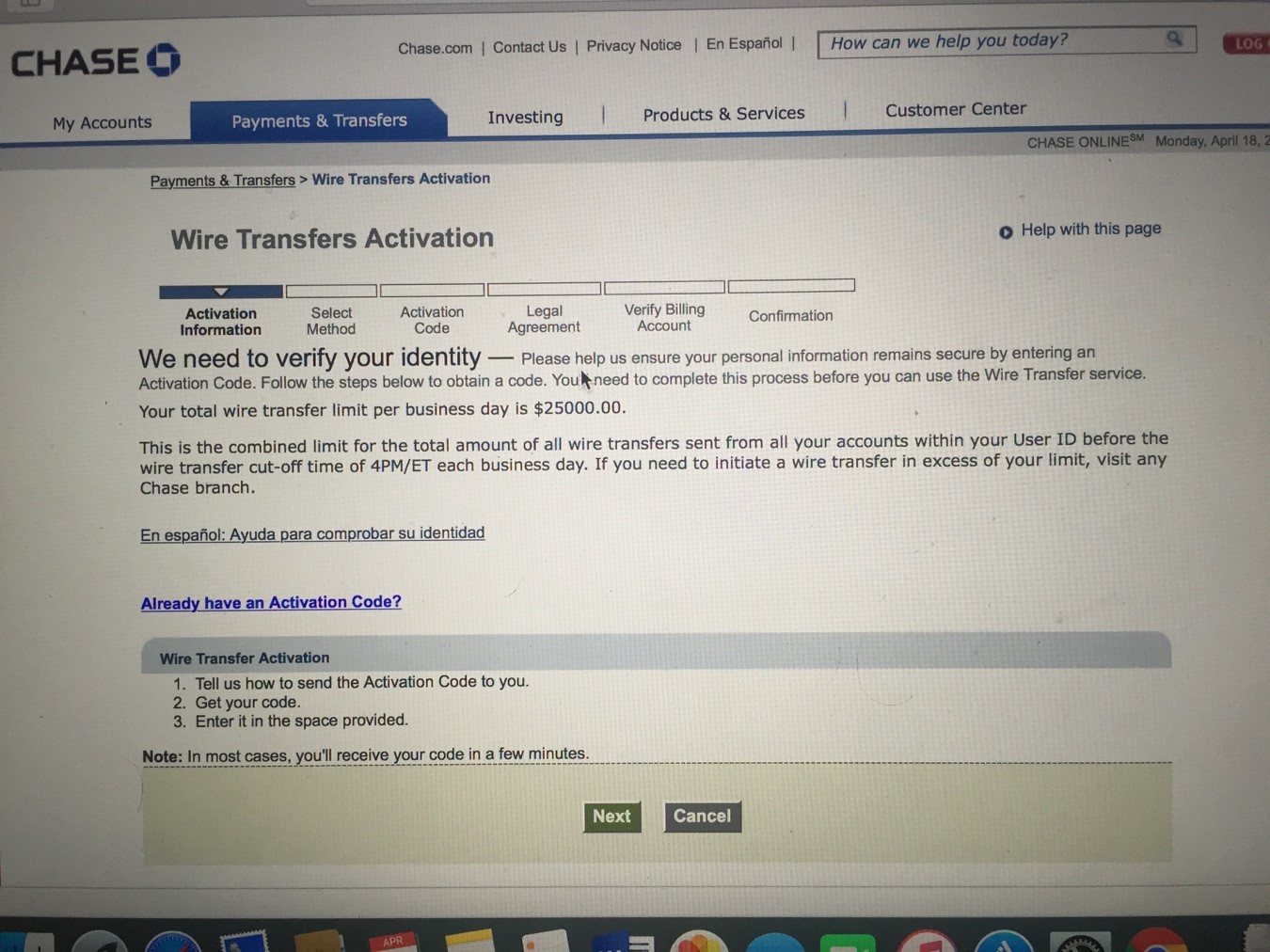 Once the verification process takes place, a customer has two options for money transfer options if they choose to use J.P. Morgan Chase. One being that they are able to transfer $25,000 USD increments per day from the online portal at a rate of $50 USD per transfer or they may go to the branch and pay $40 per transfer of the $100,000 USD. Where the aspect gets complicated with the transfers is that J.P. Morgan Chase stated they could only guarantee a four business day arrival of the funds to the United Kingdom depending on the banking institution that was chosen for the funds to arrive. Thus, J.P. Morgan Chase is not one's best choice if they are trying to transfer funds quite quickly. It would be recommended to allow two weeks interim in order to ensure that your funds have been delivered safely.
The official bank rate was 17,363 GBP for 25,000 USD. To transfer the funds with J.P. Morgan Chase, I was quote a rate of 16,350 GBP for 25,000 USD. That being said, J.P. Morgan Chase would also cost the user to have to pay many more surcharges in fees if they broke up their transfer in $25,000 USD increments. Additionally, the individual would be quoted different exchange rates on each day that the prospective increments of $25,000 USD would be transferred. If one went with this option because they were unable to get to a branch during business hours, they would be severely inconvenienced with fees and longer wait times.
Another aspect that makes J.P. Morgan Chase difficult to deal with for United States citizens are the taxation provisions in transferring money. The United States owned banks are quite strict on any amount that is over $10,000 USD leaving the country and any of these transactions whether the $100,000 USD in one single transfer or the four transfers of $25,000 USD each would raise flags for both taxation and money laundering. It is important for American citizens to note that transferring to the United Kingdom is strictly regulated by the United States government from United States banks because of the Jersey Islands being known as one of the world's better tax shelters. Thus, the consumer wanting to make a transfer with J.P. Morgan Chase would have to tread carefully when transferring this kind of capital.
Overall
As a proud customer of J.P. Morgan Chase, I think they are spectacular if one is staying domestic in the United States. Their debit cards are easy to use and their ATM's are widely distributed throughout the country. However, if one wants to use J.P. Morgan Chase for other purposes such as international travel or currency transfers, I would advise them to perhaps consider another way to transfer their money due to J.P. Morgan Chase's high rates and long lag time to wait for the currency transfer. Additionally, J.P. Morgan Chase has very high fees to make their transfers, particularly if one has to divide up a larger transfer into smaller $25,000 USD transfers. Thus, when thinking of sending a significant amount of capital abroad, it is wise to look elsewhere than J.P. Morgan Chase.