Recently, I have been conducting reviews for my ideal currency transfer company that will take my prospective 100,000 USD and give me the most competitive rate for GBP that is on the market. One of the companies I was assigned to review was Travelex and here is an account of the experience or shall I say lack of experience that I had with their company.
Registration
My recent experience with Travelex was very brief and the reason for this actually highlights a major issue with their business plan pertaining to the United States of America. When I tried to register with Travelex's site, I found the industry standard page to enter in my prospective information below: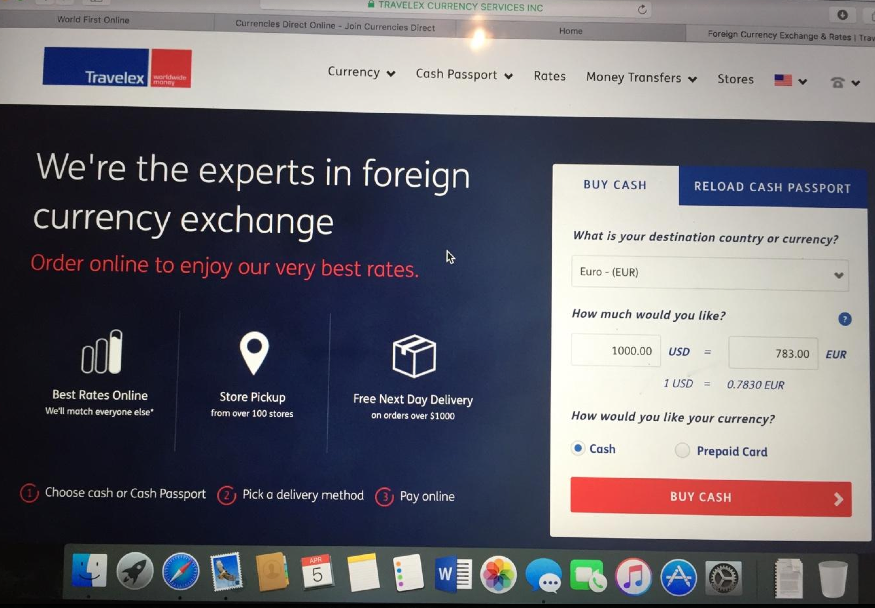 I investigated this page and found that I was able to see information pertaining to generic forms of Travelex's business given that they do not only specialize in currency transfers, but they also are a major currency change bureau that have locations all over the world. What is surprising about what happened next in my registration process is that given that Travelex is all over the United States in physical storefronts, I was shocked that they did not allow Florida residents to have access to their currency exchange transfers that other companies do. What made this even more surprising is that there were four physical storefronts alone that were within an easy driving distance from my home in Miami. Here is the page that I was presented when I tried to register to get a quote for my prospective transfer: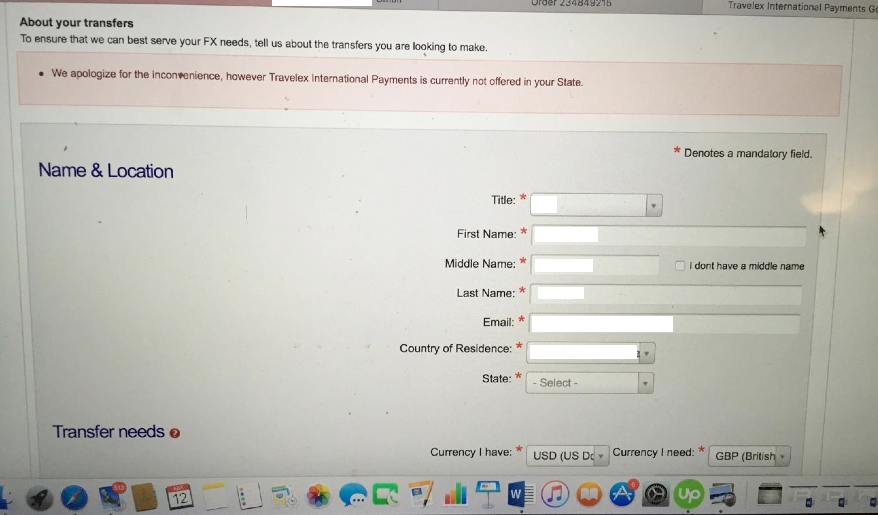 For those non-American readers, this screen above points out a interesting angle to the currency trading industry within the United States. Given the framework of our Constitution, we are designed to be operated as a more integrated European Union of sorts. Why this is relevant to my Travelex experience is simple. Each state within the United States has its own state constitution that has to follow the federal scope of guidelines that are permitted. This is precisely why each and every company that is going to go beyond state borders has to pass certain protocols within each state. An prime example of this can also be seen when a lawyer wants to be licensed in California and then has to move to Florida. This attorney has to be licensed all over again. This is relevant to Travelex because although they have currency storefronts in the Miami area, these storefronts for one reason or another are not allowed to conduct international currency transfers. Based on my investigations, I found that Florida has very particular banking law that is unique to the state and it takes a great deal for these sort of agencies to be approved due to Florida's ties to Latin American and all of the money laundering that transpired during the era of Pablo Escobar in Columbia in the 1990's.
Overall Experience
This small hiccup aside, Travelex was truly a pleasure to deal with and I am confident that had they been licensed to wire currency in my state, that they would have been a wonderful company to do business with. What I recommend to them in the future is to make their product offerings available in all of the states within the United States. The reason that I say this is that Americans have to prove domicile and in order to do that, the company has to be licensed to conduct banking transfers within each and every state. If Travelex were to obtain the necessary permits, I would happily give them another try and I am confident that I would have a wonderful experience based on the professional and courteous representatives that I spoke with regarding my domicile as a Floridian.