In an effort to compare another company within the currencies exchange industry, I decided to register with Currencies Direct. Currencies Direct is a company that is based in the UK and has a reputation of being one of the fastest currency transfers in the industry. I decided to test this personally and see whether the reputation was in fact correct. Below are my findings from my experience with Currencies Direct.
Signing Up
Currencies Direct had a very efficient website that was efficient and quite easy to utilize. What was different in the registration process between World First and Currencies Direct was that they, like MoneyCorp had more steps required to prove one's identity in order to satisfy the Anti-Money Laundering Act. Because of this, one has to input their information into Currencies Direct's site and is brought to a page like shown below.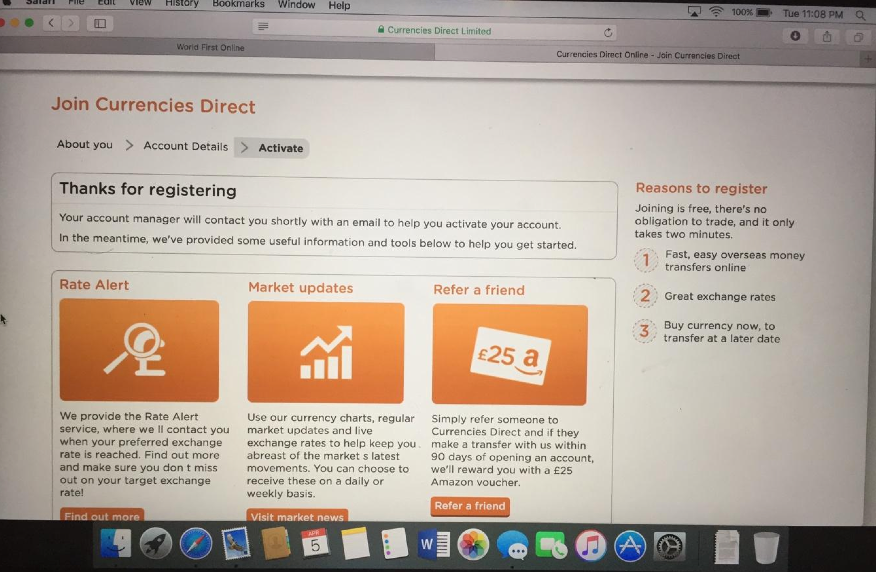 Within moments of registering, an individual receives a confirmation email from a representative asking for additional documentation regardless of nationality. I found this interesting given that many of the other companies required only Americans to provide such documentation. This is a testament to Currencies Direct overall security of their site. Below is a picture of the confirmation email that was sent to each new customer who had registered only moments before.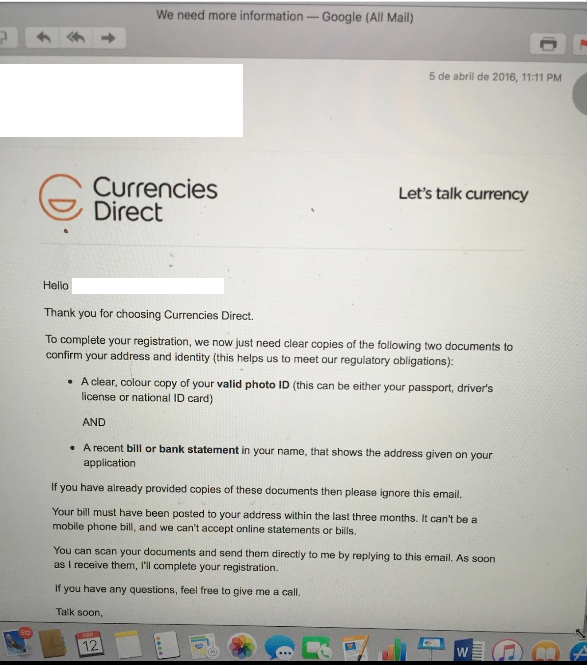 Anti – Money Laundering Act
The photograph of the email referenced above brings up an important issue with registering with many of these companies. It is completely understandable that they want to see some form of identification as a verification to make sure that those who are trading on their site are who they say they are, but where the complication comes in is the act of proving domicile. My husband and I ran into this issue several times in the process of reviewing these companies in that due to the nature of not being able to use digital statements, it was more difficult at times, to get established with these trading companies. Thus, this is a viable concern to the person who wants to make a semi-immediate transfer that needs to be in another jurisdiction by a specific date. It is best to allow at least two weeks planning to get yourself registered in case that the company finds any issue with your domicile or documentation. That being said, once you do pass Currency Direct's documentation requirements, you are able to transfer with ease.
The Transfer Itself
One aspect of Currency Direct that was impressive was that there was not a significant delay to my prospective transfer like I saw in other companies. This is the company to reach out to if you are looking for a very fast transfer because once you pass their identification screening you can have your funds in the recipient's account as early as the same day or the next business day if you so desire. This is a very competitive option that makes Currency Direct stands out among its competitors because many of the companies tend to be slower in the overall process.
The day that I was looking to transfer, the official rate was 69,564 GBP for 100,000 USD. When I contacted Currency Direct, they quoted me an on the spot transfer rate of 71, 089 GBP to USD. The rate was surely good in comparison to what I had seen in other places given that the official rate was slightly lower that day. Had I not wanted to make my transfer that day, Currencies Direct also had one of those rate monitors that was a great tool to use to my advantage had I wanted to wait additional days for my rate to increase. What is important to remember about these rates is that they do fluctuate and if you do have the time, sometimes it is a great option to wait and see how the rate fluctuates to your advantage. Through using Currencies Direct's rate monitoring system, you can save a great deal of money.
Overall Experience
Currencies Direct was surely one of my favorite companies that I reviewed overall and I absolutely saw them as a potential company to do business with. Their process was streamlined and overall very efficient to do business with. Once one was able to pass the security verification, they are a great company for the customer to use who needs to make the fast and efficient currency transfer.