Recently, I was given the entertaining task of reviewing currency transfer companies in order to ascertain who would give me the best rate for my 100,000 USD transfer to GBP while simultaneously being the most secure and efficient to deal with. I had some rewarding experiences; however, I had difficulties dealing with Western Union throughout this process and here is my explanation of the experience that I received from attempting to transfer currency by utilizing their services.
Registration
Beginning the registration process with Western Union was just like the industry standard. I was asked to complete my confidential information with the purpose of trying to setup my prospective international currency transfer. Western Union had a very nice account verification code setup to automatically be sent to the customer's email. The picture of the screen that I was prompted to enter this code was pictured below.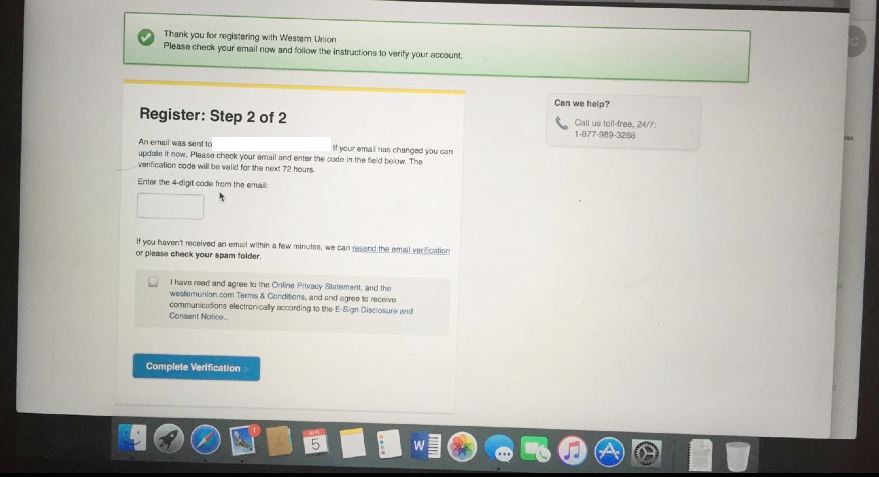 Once I entered in this code, it was very simple to access the user interface and to start investigating how their exact platform worked. Below is a picture of what happened when I tried to enter in the amount for my prospective 100,000 USD exchange to GBP on Western Union's website. I thought that this was good that I could not see what this amount was because it shows that Western Union was in fact secure enough to verify a person who was looking into transferring a high amount such as: 100,000 USD.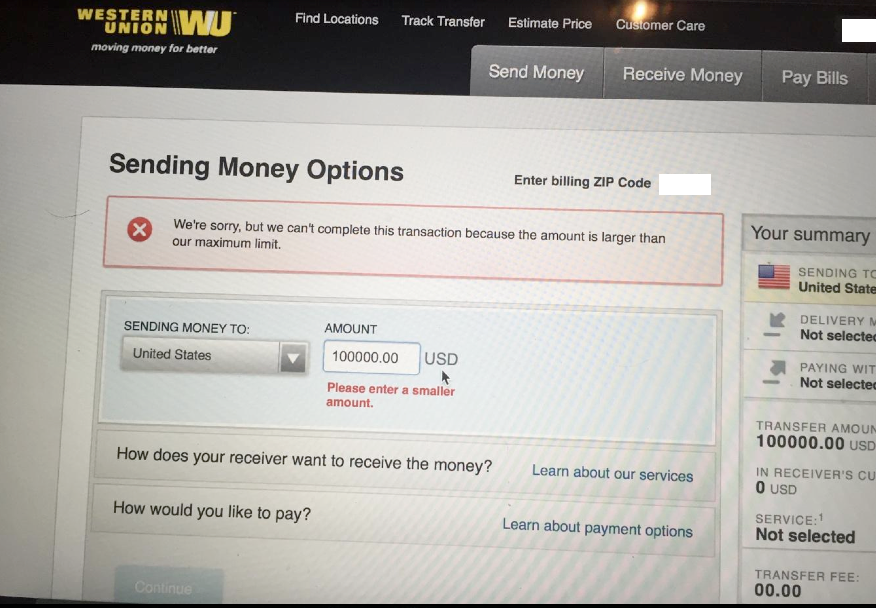 The Transfer
Unfortunately, in the case of Western Union, this part will be rather limited due to the customer service that I received. After I was unable to find a base amount quote online pertaining to how my 100,000 USD purchase would transfer to GBP, I decided to call Western Union to try to speak to a representative on the phone after not hearing anything for over 24 hours. Western Union had a different message in their email that was not up to the rest of the industry's standards in my view. Western Union instructed their customers to contact them instead of calling them to welcome them to their service. I thought that they could have improved on this because each and every company that I reviewed seemed to have an automatic phone call required of their agents with the exception of US Forex.
I tried to reach out to them after waiting the 24 hour period and was required to wait on hold for roughly one hour, which I also thought was below par for the currency exchange industry that I had witnessed as I was reviewing the major companies. Once I was assisted on the phone, I was also not treated respectfully by the customer service agent. The customer service agent refused to give me a quote for the 100,000 USD to GBP that I was seeking and when I asked how I could go about getting this quote in the future, she said that she did not know.
Had I really been intending to transfer money that day, needless to say, I would likely have avoided Western Union altogether, but this experience is consistent with what I had heard from colleagues who had dealt with Western Union to send money home to their families in South America. Previously, Western Union was one of the only ways to send money home to those countries and thought that they could get away with charging poor rates and providing mediocre customer service. Now that there are many other companies in the game, Western Union is going to have to be careful in how they treat their current and prospective customers.
Overall Experience
My experience with Western Union was overall unacceptable. If I were to be transferring an amount such as 100,000 USD to GBP, I would of course expect a certain level of service, courtesy, and efficiency with my transfer. Thus, if you are looking for a company that is efficient, I would venture a guess that Western Union is not the ideal choice for your quest and I would advise you to seriously consider looking elsewhere.