In continuing my search for the ultimate currency trading company to conduct my prospective money transfer with, I decided to give World First a review to see if I should take my business to them in the future. After having experienced major issues registering with MoneyCorp due to my American nationality, I decided to mix things up a little bit and see whether my Venezuelan husband or I would have a better success rate with registration and would both be able to transfer United States Dollars to the United Kingdom.
Here is an outline of our experience with World First which I got from this WorldFirst review that I found to be absolutely sensational!
Registration
Up front, I have to say that World First had the most superior registration process for both Americans and Venezuelans alike. What particularly struck me about their interface was the fact that they had such a user friendly interface that truly made it easy for the customer who was not necessarily an expert currency trader to operate. I really appreciated this about their business model because it truly presented a professional and polished experience for their prospective consumer who was taking time out of their busy day to register for their website. Below pictured is the first welcome that we received from World First to their business.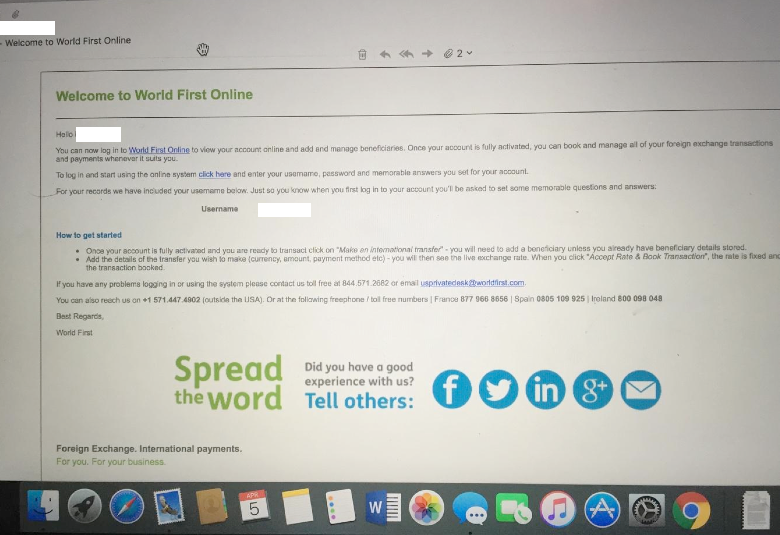 I found this page to be very helpful to jumpstart the process; however, what really impressed me was the second welcome page of their interface. Below pictured is the next part of their screen that I just thought was sensational!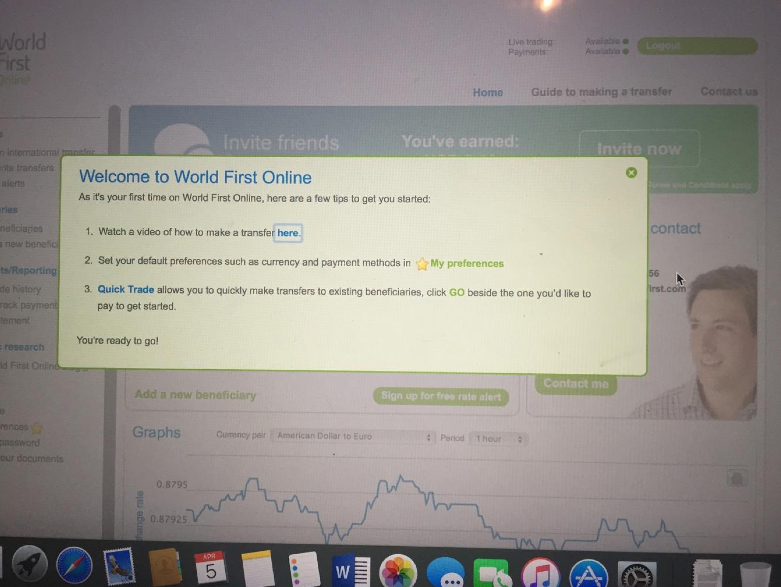 What made this introduction for World First's consumer so wonderful is that they were able to watch a video that explained how the process work. This was one of the only companies that had this available and I really thought that it was a great touch. The three step introduction process really enabled the consumer to explore their platform and to have a grasp of what their process was.
Post – Registration Interaction
World First deserves a medal for their overall fluidity to their welcome process; however, what really impressed my husband and I was that within fifteen minutes of joining, we each had three different welcome emails. The first was the general welcome that is the industry standard and the next two were an actual physical contact that was designated just for us. This individual offered their services to us and made a great effort to welcome us and see what kind of transfer we were looking to experience. Additionally, this person contacted us first thing the next day to talk to us about our options. This entire process truly set World First apart from the rest and made them the company I would likely choose out of all of the companies that I have reviewed to date.
Anti – Money Laundering Act
What is important to note with any of these companies is that as an American, I have to comply with stricter regulations than my husband pertaining to showing identification and proving my domicile. This additionally includes not utilizing any online bank statements or cell phone bills to prove my domicile either. What was interesting about this for my Venezuelan husband is that he was the first class passenger in this experience in the manner that he was accepted instantly and I had to provide more documentation. In fact, World First did not ask him for nearly as much information as they did in my case. This is the only potential negative that I saw with World First pertaining to what the Anti-Money Laundering Act is trying to protect because in theory, their operations are slightly less secure than MoneyCorp's were due to the way that let almost anyone into their trading platform with little screening. It is possible that this will change in the upcoming years, but it is something that is important to note when considering doing business with World First.
The Transfer Itself
World First really presented a great interface from start to finish; however, we particularly enjoyed their trading platform on their website. We explored their site extensively to see how it read to the user who was not necessarily an expert in the field of currency trading and what we found was a very well done website. The reason I mention this is that other companies did not invest the proper capital to design a professional website that was efficient and worked well for the end user. World First really did a nice job and this made us attracted to their business even more. Below is a picture of their website platform that the successfully registered customer receives access to: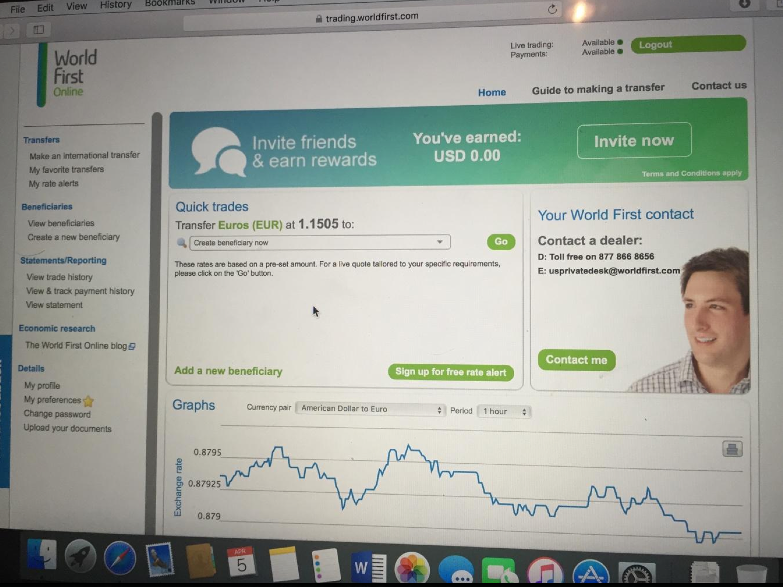 One aspect that we particularly enjoyed on their website was their capability to do a rate alert by either email or SMS text. This was a great feature that is not available at all companies because it allows you to choose a target rate that you are trying for and then be notified when that rate transpires. That being said, one is unable to physically trade 100,000 USD to GBP online because the amount is so high, but they can get a rate on an amount that large when they are transferring on the site. This is a great tool for the consumer to use and they can set the date from a range of one day in advance to several weeks in advance to see the different rates. For our particular transfer, we called to see what the rate for 100,000 USD to GBP would be. At the time that we contacted World First the official rate was quoted at 69,873 GBP for 100,000 USD. At the current moment, World First quoted us a rate of 71, 600 GBP for 100,000 USD. This would have provided us a savings of several thousand dollars on our prospective transfer. Figures such as these are imperative to understand when one is considering making a big real estate purchase in a foreign jurisdiction because they can potentially save a great deal of capital on their prospective investment.
Overall Experience
In sum, World First was a pleasure to work with and we are absolutely going to keep them in mind for our future prospective currency needs. From start to finish, one is guided systematically through their process with ease in a professional and courteous manner. I would highly recommend World First to any customer who is considering transferring currency in the near future.