In my continuous research for a money transfer company, I came across World First. It is one of the better known firms in this industry and has received great feedback in the industry. I checked expat forums and saw the WorldFirst name being mentioned all across. It is evident that UK, U.S, Australian and Canadian expatriates are loving this company and I wanted to give them a try as well. This World First review will lay out my personal experience and thoughts with them. If you need more technical data I am not the person to ask (check this more "professional / editorial" WorldFirst review if that's what you're after).
Registration
Upfront, I have to say that World First had the most superior registration process for Americans and Brits alike. What particularly struck me about their interface was the fact that they had such a user friendly interface that truly made it easy for the customer who was not necessarily an expert currency trader to operate. It is even easy to register as someone who is a complete opposite of a Tech Geek, like myself!
I really appreciated this about their business model because it truly presented a professional and polished experience for their prospective consumer who was taking time out of their busy day to register for their website. Below pictured is the first welcome that we received from World First to their business.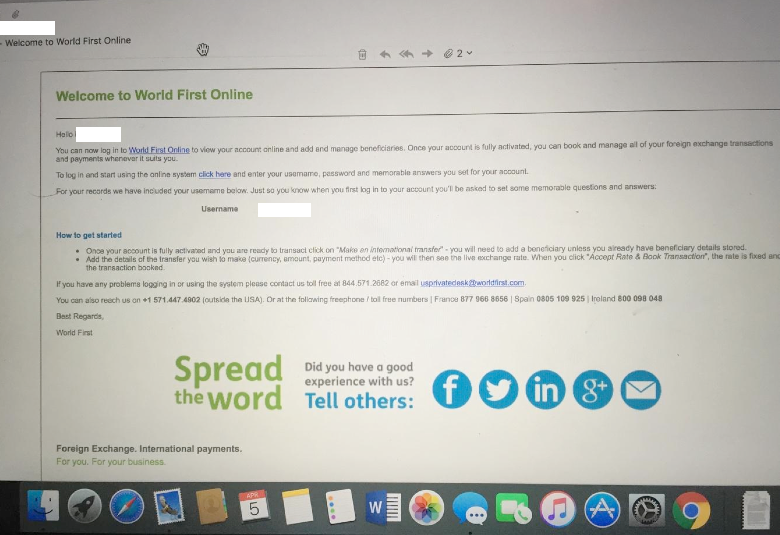 I found this page to be very helpful to jumpstart the process; however, what really helped me get the gist of their business was the second welcome screen as per below: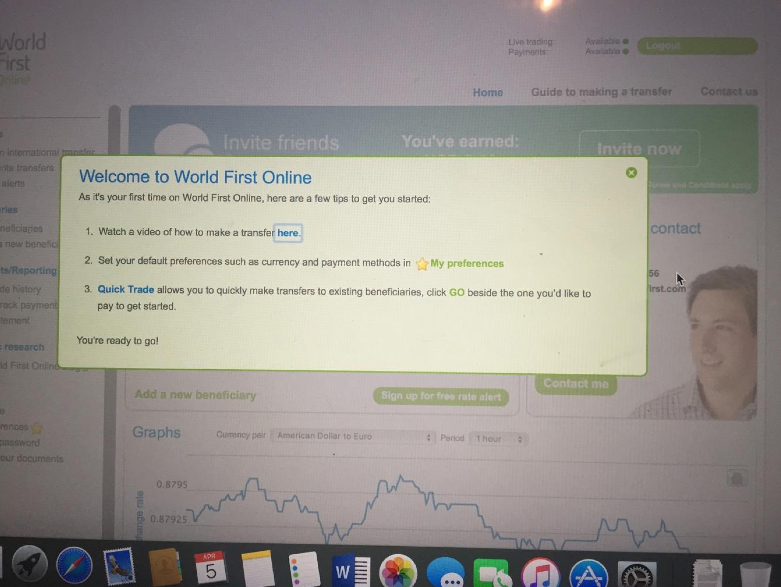 What made this introduction for World First's consumer so wonderful is that they were able to watch a video that explained how the process work. This was one of the only companies that had this available and I really thought that it was a great touch. The three step introduction process really enabled the consumer to explore their platform and to have a grasp of what their process was.
Post – Registration Interaction
World First deserves a medal for their overall fluidity to their welcome process; however, what further impressed my husband and I was that within fifteen minutes of joining, we each had three different welcome emails. The first was the general welcome that is the industry standard and the next two were an actual physical contact that were designated just for us.
This currency dealer offered their services to us and made a great effort to welcome us and see what kind of transfer we were looking to experience. Additionally, this person contacted us first thing the next day to talk to us about our options. This entire process truly set World First apart from the rest and made them the company I would likely choose out of all of the companies that I have reviewed to date, and a far cry from U.S banks like Chase (or UK banks for that matter).
Anti – Money Laundering Act
What is important to note with any of these companies is that as an American, I have to comply with stricter regulations than my husband pertaining to showing identification and proving my domicile. This additionally includes not utilizing any online bank statements or cell phone bills to prove my domicile either. What was interesting about this for my Venezuelan husband is that he was the first class passenger in this experience in the manner that he was accepted instantly and I had to provide more documentation. Since I initially reviewed World First they have implemented more technological measures into their system and are now able to accept Americans without needing to send any additional documents.
The Transfer Itself
World First has terrific online system. It is well-designed and intuitive even for people like me and my husband who were transferring money online for the first time. The most important aspect is that it is crystal clear how much money you will get back in foreign currency, without any hidden fees like you're used to with banks. With my bank I knew I had $25 to pay in fees for an international transfer, but I didn't know the rate they have provided me with is much worse than the real interbank rate. With World First's online website, it was very clear which rate I am getting and how it compares with the official rate .
Below is a picture of their website platform that the successfully registered customer receives access to: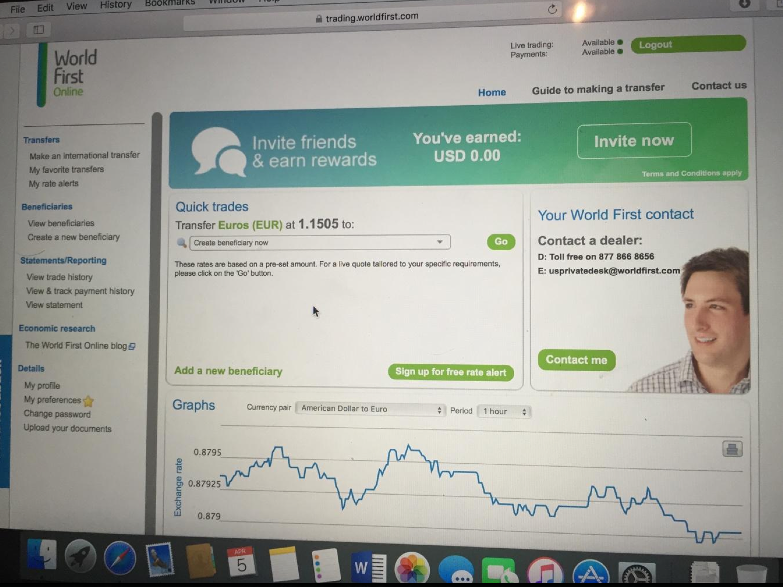 One aspect that we particularly enjoyed on their website was their capability to do a rate alert by either email or SMS text. This was a great feature that is not available at all companies because it allows you to choose a target rate that you are trying for and then be notified when that rate transpires to that figure. This is a great tool for the consumer to use and they can set the date from a range of one day in advance to several weeks in advance to see the different rates. We used it and made our exchange when the official rate has met what we were looking for.
Since our requirement was to exchange 100,000 USD to GBP we were unable to do that online, and instead, we did it through the telephone through our dedicated dealer. We we're quoted at at 75,000 pounds sharp on October 2017, when the real official rate was very close (75,500 or around that). That compares to less than 73,000 which other providers including our bank has quoted us with, and we were extremely happy to see that World First is the cheapest company of all.
Overall Experience
In sum, World First was a pleasure to work with and we are absolutely going to keep them in mind for our future prospective currency needs. From start to finish, one is guided systematically through their process with ease in a professional and courteous manner. In addition to that, the rates were the best out of all companies and banks we tested. I would highly recommend World First to any customer who is considering transferring currency in the near future.