In order to satisfy my quest to find the ideal currency transfer company for my upcoming transfer of 100,000 USD to GBP, I tried my luck with US Forex (now branded under giant OFX) Review. US Forex Review had sustained mixed reviews of their services and thus, I decided to see how they handled my particular case in order to decide whether they beat out Currencies First or World First. Below is what I found in my attempts to sign up for their currency transfer service and to receive a quote for my prospective transfer.
Registration
The registration process started out strong with the usual required information for the industry. Here is the page that was initially needed from the prospective customer to register with US Forex's service. The important aspect to note with US Forex is that they start the information that they request in order to determine your prospective domicile. At that point, they get into the specifics of what kind of amount and in what currency that you are considering transferring. This is how they direct you to the proper department and determine if you are a risk for potential money laundering.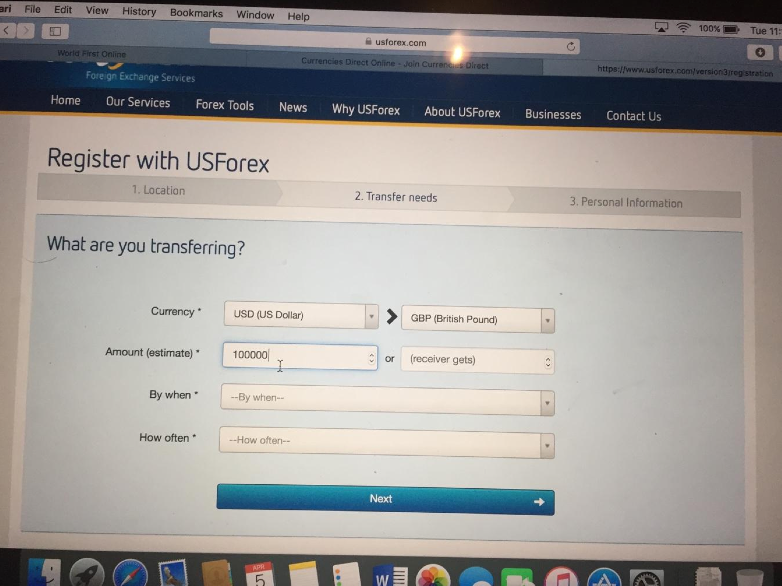 Once I entered in the information that was desired, I was immediately presented with another screen that verified my social security number since I am a United States citizen. Below is the screen in which I was prompted to enter in my confidential information.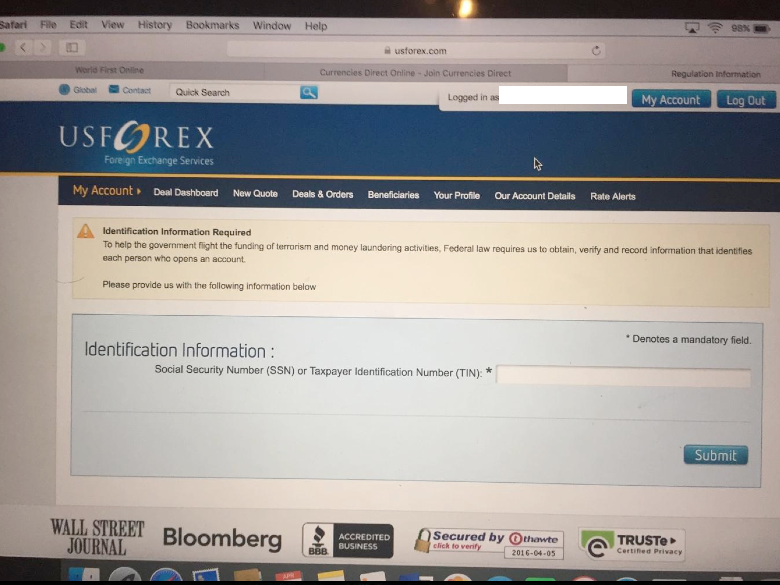 I was happy to provide US Forex with this information and it speaks very highly of the security measures associated with their site. This is important to remember in that when you are choosing a respective currency trading company that you want their site to be as secure as possible and you want them to ask you pertinent identification information. This is a positive indication that their service and company is reputable since they are following the standard protocols that the industry dictates at the current moment.
What made US Forex lose a little bit of respect with my transaction was their calling prompt that happened after the registration process. I was prompted with a screen like the first photograph below and then given a pop up window that mandated that I call their customer service to further finalize my account and pass the security screening process.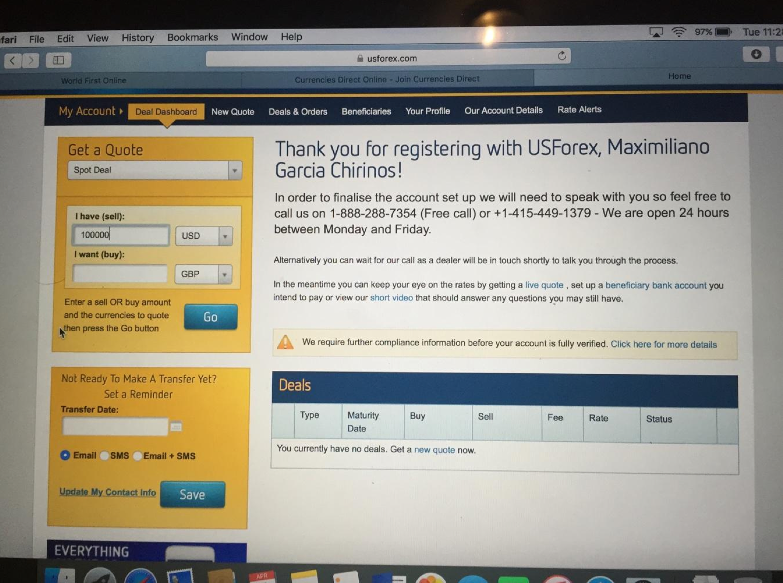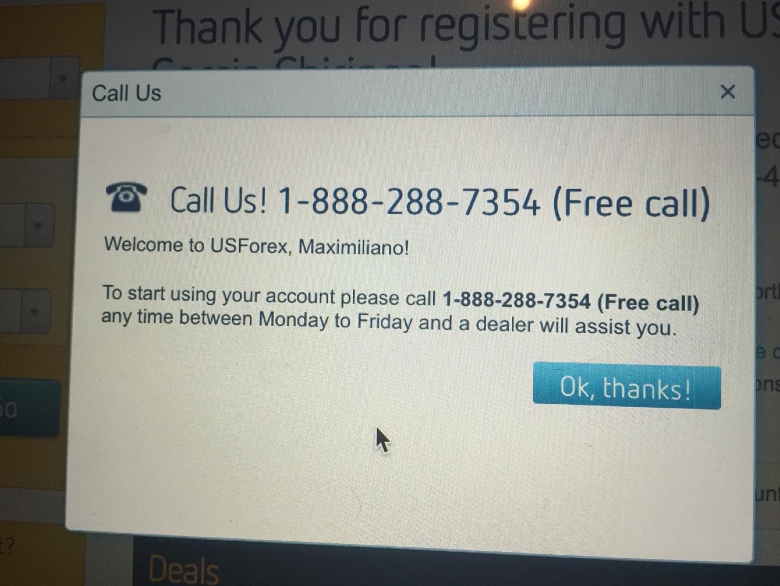 Even though this seems like the logical procedure to follow, it was quite inconvenient to the consumer because I was on hold for one hour trying to get through to them, which in my view is unacceptable. If a customer is registering to a new service, particularly one in the currency exchange business and they are prompted to call, they should be attended to within ten minutes. Thus, I decided to try the company another day and was surprised that I received an email that was going to be contacted within 24 hours and never was. This, in my view, was a major flaw in their registration process and should be noted by the prospective consumer who wants to make a quick transfer. US Forex is likely not the best choice if this is your ultimate objective.
The Transfer
When I was finally able to connect with US Forex and complete the registration process, I was already onto reviewing other companies and the official quoted rate for my prospective transfer of 100,000 USD was 69, 564 GBP. Upon conversing with the US Forex representative, it was very difficult for them to give me a straight answer because they kept trying to understand more about why I wanted to transfer 100,000 USD since it was a very large amount of money. The quote that I was able to get from US Forex was 71, 059 GBP for 100,000 USD. This rate was close to another quote I had received and was not bad given that the official rate was substantially lower that day.
Overall Experience
In my experience with US Forex, I have to say that after their registration process, their service was up to the quality that I witnessed from Currencies Direct and World First. That being said, I would strongly advise them to take a good look at their registration process in that this is a way that they could discourage a great deal of prospective business. Particularly for those clients that are upper tier wealthy clients, they expect a certain level of professionalism and efficiency. I did not see that level of service from their registration procedure and I truly believe that if they fixed this, they would be a company that has wonderful opportunity to compete with some of the major players in the currency exchange industry. In their promotional email, US Forex indicated that they have over 300,000 customers utilizing their service, thus, I believe that if they make sure to grow systematically with consistent and reliable customer service, that they will be one of the superior companies to deal with in the years to come.